World Accreditation Day 2023
June 9, 2023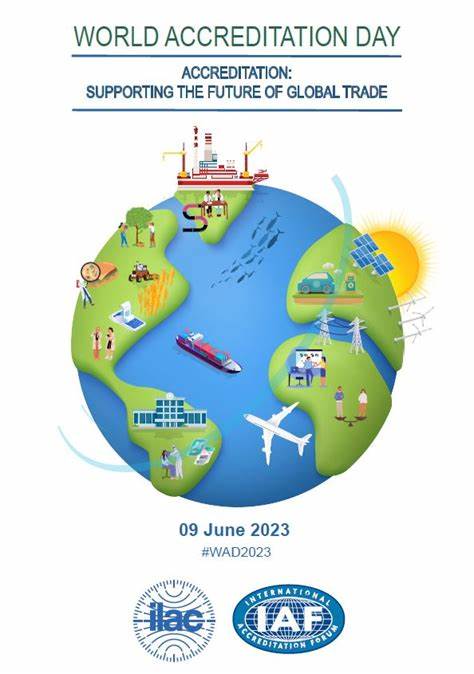 The World Accreditation Day theme for 2023 highlights the invaluable role accreditation and conformity assessment play in supporting the future of global trade.
At the core of this are some of the most important concepts of the accredited conformity assessment system: harmonization, equivalence, 'accredited once, accepted everywhere'. These concepts are exactly those which oil the cogs of global trade; they bring down the barriers between countries and regions. Accredited conformity assessment helps businesses to move goods and services efficiently and effectively, helping regulators, national authorities and governments have trust and confidence in the goods and services which move across their borders.
One of the key elements is the multilateral agreements. IAF's MLA operates so that, 'Once an accreditation body is a signatory of the IAF MLA, it is required to recognise certificates and validation and verification statements issued by conformity assessment bodies accredited by all other signatories of the IAF MLA, with the appropriate scope.' About the IAF MLA – IAF. This, along with the ILAC MRA, is a key tool in supporting trade, through global acceptance of conformity assessment results such as certificates, test and inspection results.
As the IAF/ILAC World Accreditation 2023 brochure states, 'Trust is the essential component of trading relationships, whether they are conducted within national borders or with other economies. Economies around the world have long relied on an integrated system of standards, regulations, metrology and accredited conformity assessment to create a quality infrastructure. This integrated system has generated the necessary trust to support trade by ensuring that consumers, businesses and regulators procuring goods and services get what they expect.'
In their World Accreditation Day Joint Statement, the Chairs of the two leading international accreditation organisations, IAF (International Accreditation Forum) and ILAC (International Laboratory Accreditation Cooperation) IAF and ILAC state the vital link between trade and accredited conformity assessment:
'The founding ethos of IAF and ILAC many decades ago was to support global trade. That ethos has driven and still acts as one of the primary motivators for the two organisations.
In a constantly changing world, it is remarkable that accreditation supporting world trade is as relevant for today as it was decades ago and this relevance only seems to grow stronger. Estimates by the Organisation for Economic Co-operation and Development (OECD) and the United States Department of Commerce are that standards and related conformity assessment have an impact on 80% of the world's trade.'
IAF and ILAC have a range of material to further explain accredited conformity assessment's role in the future of global trade.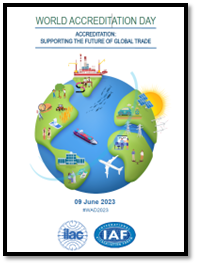 the Accreditation supporting the future of global trade brochure and
the World Accreditation Day Joint Statement from the Chairs of IAF and ILAC  WAD 2023.
Through the extensive range of accredited conformity assessment and other assurance services, IIOC members offer a wide range of solutions which support all organisations in trading across the globe.