BSI 2022 full year results
April 21, 2023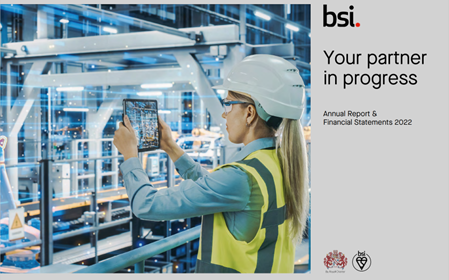 IIOA member BSI reports its 2022 results.
Overall revenue increase 14.9% (9% at constant currency) to 672.8m GBP.
BSI summarises this, 'Despite a challenging external environment, we delivered a strong financial performance in 2022 which once again demonstrated the resilience of our business.
Within the group results, Assurance contributed 311.2m GBP, up 9% (5% at constant currency). Describing this as a, 'Resilient performance,
Our Assessment and System Certification business continued to demonstrate its resilience and delivered solid revenue growth and consistent profitability thanks to enhanced productivity, robust pricing adjustments and continuing delivery of Hybrid Audits. Further strengthening our portfolio of services, both Sustainability and Digital Trust grew significantly in 2022 thanks to focused investments in new solutions, resources, and capabilities.
Our Sustainability portfolio grew with a major focus on Carbon, Greenhouse Gas (GHG) emission verification services and Modern Slavery.
Assurance Services
Our Digital Trust services continued to be a major area for us in priority sectors including Transport and Mobility, Professional Services and Information and Communications Technology (ICT). In 2022, we expanded our Trusted Information Security Assessment Exchange (TISAX) services to cover more than 14 countries and launched several new solutions including General Data Protection Regulation (GDPR) certification and road vehicle cybersecurity certification. We successfully launched our Service Delivery Excellence framework to support our multinational clients across all markets, powered by our Connect Digital self-service platform. This was a key success factor in several large contract wins in 2022.
We accelerated our innovation agenda and the development of 'Assurance of the Future', particularly our work on BSI Hybrid Audits, predictive analytics and adaptive learning.
The full BSI Annual Report and Financial Statements 2022 can be viewed here.