Assuring ESG Efforts Improve Sustainability and Business Performance
April 14, 2023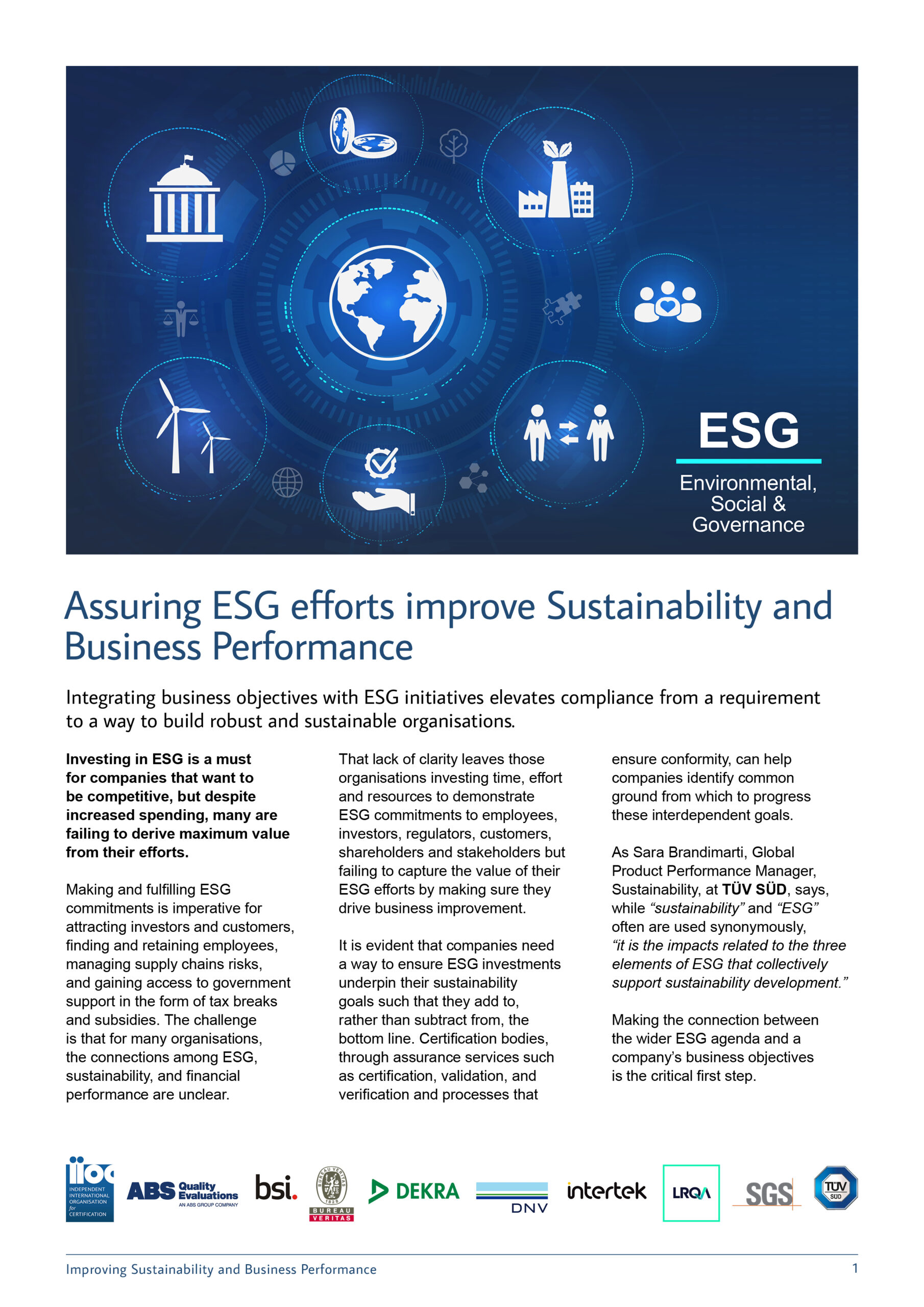 As the 22 April 2023 Earth Day draws attention to some of the key sustainability issues, the IIOC paper Assuring ESG Efforts Improve Sustainability and Business Performance, highlights how IIOC members can help businesses on their journey to improved sustainability.
Vitally, the paper highlights that delivering improved sustainability is a key contributor to overall business performance. This addresses one of the key issues raised from IIOC research amongst 2000 sustainability professionals in businesses, that businesses have so many priorities, sustainability is battling for a place at the top of the corporate agenda.
The top priorities are such core issues of modernisation (e.g. tech improvements), new product development, increasing profits and growing the customer base – fundamental issues to businesses' survival and growth. By highlighting how actions on ESG (Environment, Social, Governance), assisted by IIOA members, can deliver improved sustainability and business performance, ESG is integrated into business activity. This delivers multiple benefits, to business and of course the planet.
As the paper states, 'Integrating business objectives with ESG initiatives elevates compliance from a requirement to a way to build robust and sustainable organisations. Making and fulfilling ESG commitments is imperative for attracting investors and customers, finding and retaining employees, managing supply chains risks, and gaining access to government support in the form of tax breaks and subsidies. The challenge is that for many organisations, the connections among ESG, sustainability, and financial performance unclear'.
With examples from all IIOC members of how their ESG support drives improved sustainability and business performance, the paper acts as stimulus to ideas on turning ESG from a seemingly insurmountable set of problems to an opportunity to deliver better. As the paper concludes, 'Viewing ESG as a business objective allows companies to invest in ESG in ways that improve competitiveness and sustainability rather than simply spend money to demonstrate compliance.'
The Assuring ESG Efforts Improve Sustainability and Business Performance paper follows the publication of the two complementary IIOC papers, Certification for business improvement and Transformative technology techniques, both of which are available through the links above.
Assuring ESG Efforts Improve Sustainability and Business Performance provides a basis for dialogue on helping businesses become more sustainable, a dialogue which can be progressed with all IIOA members can be contacted hereand below: